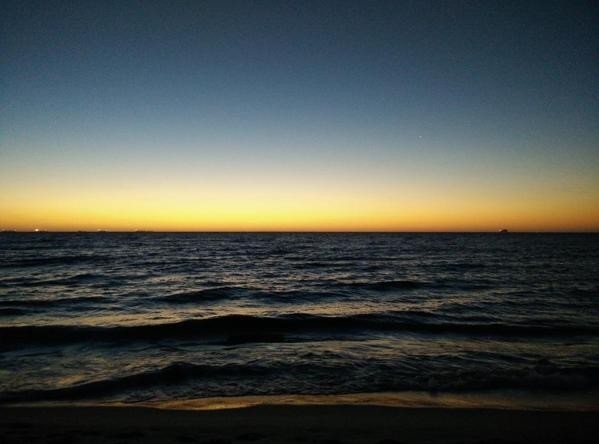 Feedback from founders - April 2018
Published 23 April 2016
Glad to share feedback received from some very passionate entrepreneurs :
Maybright Ventures , has been started by two experienced professionals with diverse experience in Banking and Financial Analytics and Portfolio Management . The company is based out of Kolkata.
"Mr. Hari has proved to be an invaluable guide and mentor in our recently started entrepreneurial journey at Maybright Ventures. My co-founder and I reached out to him at a very early stage when we were still debating what our business would fundamentally be about. He encouraged us continuously and challenged us to take an unconventional approach which has put us on the path to delivering a truly unique product. There have been numerous roadblocks on the way and Mr. Hari has always been available as a sounding board to help us refine our thinking, made us question our assumptions, and left us more energized about what we are trying to accomplish. His insight from mentoring many other startups and startup investors gives him a unique perspective that we have been able to benefit from. Other than his invaluable advice he has been very forthcoming in putting us in touch with other people in his network who could potentially help us with some aspect of our business. Knowing that he is around as a mentor gives us enormous moral support."
Gaurav Jalan
Founder & CEO ( mpokket.com)
________________________________________________________________________________________________________________________________________________________________________________________]
Bengal Speech and Hearing Private Limited has transformed itself in the last two years as the National leader in providing hearing aid and speech solutions in India. The company started by a team of audiologists has expanded aggressively post receiving funding from Matrix Partners in 2015. The company is headquartered in Kolkata
"Hari sir helped me in different ways to think rationally and to take right decision.

He helped me with his experience of an Enterpreneur. Above all in difficult times he is always available to help to take right decisions and strategies.
In my life there are few situations where if hari sir was not there then it could be difficult to survive. "
Somnath Mukherjee ,Founder
Bengal Speech and Hearing Private Limited
___________________________________________________________________________________________________________________________________________________________________________________
www.inventrom.com is the developer of BOLT , an Internet of Things (IoT) platform , that enables businesses to enable Smartphone app based remote control applications for their respective products. The BOLT shop is an online store that provides all BOLT connected products for Home Appliances, Security control and remote control applications. The startup is based out of Goa, India .

" Your suggestion of us targeting makers and developers via workshop was spot on. It has helped us to quickly get some early sales. We have been doing workshops in the past but did not think of applying it towards Bolt. We felt that it was an obvious decision to take but we neglected. Thank you for making it clear for us. We also did not have much business experience and negotiation skills. Your guidance in this regard has been of immense help. You also helped us in developing our investment pitch.
But your quality which we love the most has been Equanimity. We have seen that in case of good news you don't get over elated and in case of any bad news you are equally encouraging. I believe your spiritual practice has been the reason for this. This quality of yours has been of immense inspiration to me as a person. Thank you. "
Pranav Pai Vernekar
Founder - Inventrom ,www.inventrom.com
_______________________________________________________________________________________________________________________________________________________________________________________
www.mukundafoods.com (Mukunda Foods Private Limited ) started from the campus of SRM University in Chennai. The founders Eshwar and Sudeep won the TATA NEN award as students and subsequently were incubated in the virtual incubator of the Indian Angel Network by Mr. Hari Balasubramanian. The company invented the worlds first desk top Dosa Making machine called Dosamatic and went on to establish a manufacturing unit in Bengaluru. The company was seed funded by the Indian Angel Network and has now sold and installed Dosamatic not only in India , but in several overseas markets like Australia , UK , USA etc.
The company was selected to show case its product when the Prime Minister of India , Mr. Narendra Modi went to the Silicon Valley in 2015 . The company also received world wide publicity recently during the visit of the Royalty from UK ( 2016 April) , when Prince William tasted Dosas made during the demonstration of Dosamatic. The company has recently designed a domestic version of Dosamatic for use at homes. The company has also launched www.dosmaticstore.com for sale of batter and other accompaniments like chutney , filling and sambar etc.
"Mr.Hari has been associated with Mukunda foods since 4 years. He has been with us since the time we got incubated, has seen us through 2 fund raises & currently is a board member at company pushing for accelerated growth. Of the various roles he has played with the company the most impactful one was that of a mentor. He inspires us to think big, grow fast and grow strong. Though being a board member of the company he never dictates a decision on us and always allows us to act in the best interest of the situation. I have personally seen him being concerned not only for Mukunda Foods but also for numerous companies he mentors. As an entrepreneur & as the CEO of Mukunda Foods, I would definitely like to mention that without the mentorship of Mr.Hari we might have never come this far. More than a mentor, i would like to call Mr.Hari a selfless mentor who sees good in only giving and not expecting anything in return. We are lucky to have Mr.Hari as a mentor. "
Eshwar K Vikas
Co Founder
Mukunda Foods Private Limited
__________________________________________________________________________________________________________________________________________________________________________________
www.styledotme.com is a fashion app that allows the user to instantly poll with friends , followers and other and get them to vote on his/her choices. The app also has bloggers/stylists giving instant expert advice to the users that will help users make quick decision. Styledotme app is available for free on Android and iOS platforms.
" My first meeting with Mr. Hari Sir was 3 years back at a TIE conference in Kolkata. His instant faith in the idea of StyleDotMe, and its global significance, paved the way for a long term mentorship. He asked me couple of questions and agreed to help me take the app to another level. At that time, StyleDotMe was just on android and I was trying to get a proof of concept. Hari Sir's motivation and belief convinced me about the need to be on iOS and it made me more serious about the whole project.
Hari Sir not just helped me from time to time in refining the idea and build a solid product but he left no opportunity to connect me to the right people so that the app can go viral. I was introduced to IAN through him and he became my lead investor. People say its very difficult to get funding for a single female founder and that too non tech. But I feel with a strong mentor like Hari Sir, who believed in the idea, I was lucky enough to be heard by many other people and got this super opportunity to be funded by IAN.
Having him as a mentor has been a bliss since he helps in all domains. So whenever I get blocked, he is just a call away. He either gives me the right solution or connects to someone who would help. Having him around has not just contributed to my professional growth but has also made me grow personally. These values were instilled as he teaches me to work towards the goal aggressively and give your 200% until you achieve what you want. I think he has immense amount of patience and have always seen him handle situations very calmly. Hari Sir has helped StyleDotMe create an innovative vision, fuel the dreams for the app and bring in a new phase for us. "
Meghna Saraogi
Founder, www.styledotme.com
______________________________________________________________________________________________________________________________________________________________________________________
www.zostel.com , Zostel Hospitality was founded by a team of 7 young graduates in 2013-14. In two years since inception , it became one of India's most vibrant youth brands . They raised over $40 million in equity and were recently ( 2016) acquired by Oyo Rooms in a multi-million dollar deal. The company is based out of Delhi.

About Hari sir's contribution :
Entrepreneurship is a journey rather than the goal, and journeys are always remembered by the great people you meet along. Today morning, I was telling a budding entrepreneur about Hari sir's key role in the early steps of Zostel.
Being an entrepreneur is a lot about discovering yourself, realising your strengths, analysing your flaws and accepting who you are while working towards becoming a better yourself today. The brief conversations we had clearly highlighted his thought process towards life and motivated us, the amateur ones, towards working hard and realising our potential. The only thing I am sure about 'luck' is that it follows the hard worker more than the brave. Serendipitously meeting him and getting his helping hand over our shoulders along with kind blessings is what pushed zostel on its trajectory. A lot of things that we achieved would have been impossible without his support. I am indebted to him for that and hope that there will be a chance in future to work together as well. He has been a god father to Zostel. Thank you for everything.
Dharamveer Chauhan
Co Founder - www.zostel.com
"Hari sir was one of our first mentors while we were still B-school students with lot of confidence and energy but still grappling to find the right direction. We met him at one of the many B-plan competitions that we participated in and to our relief - he was able to identify the potential in our plan almost immediately. Once we got connected, there was no looking back and rather than a mentor, Hari sir became more like an experienced friend who was ever ready to help us out with anything under the sun - be it going through our B-plan time and again or industry contacts or mid-night brainstorming. He was equally if not more excited about our venture Zostel as us and left no stone unturned to help us out with fund raising and pitching the idea to the investor community.
Even till date, after 2 years of limited contact, we know that he is always there for us and we have lot of respect for him in our hearts. Any startup would be lucky to have him onboard."
Akhil Malik
Co-Founder & Director, www.zostel.com
IIM Calcutta | Batch of 2014
vistarooms.com has announced its entry as an online branded accommodation aggregator with an aim to provide comfortable, standardised stays not just in bigger towns but in smaller cities across India. Vista Rooms has primarily targeted the unorganised affordable accommodations segment in tier II & III cities of India, building a network of over 450 properties in 55+ cities. The online startup has already raised funding to expand its network of branded stays, bolster its technology and hire new talent. They have launched their services in Sri Lanka recently . ( April 2016) . Founded by Pranav , Amit and Ankita the vistarooms.com team is based in Mumbai.
" We have been actively mentored by Hari sir, right from the ideation stage. What separates him from other mentors and investors is his ability to infuse immense positivity in the team. Across various discussion which we had, he has donned multiple caps -he has played roles of devil's advocate, an optimist and a rationale mentor. He helped us in our early stages and continues to help us even today on both technology and business issues. He always pushes us to our limits, his ability to carve out new scenarios - related to marketing, revenue streams is highly commendable and invaluable to entrepreneurs.
His advice of keeping customer acquisition costs low, continuously looking for pivots and focus on customer feedback kept us in good stead."
Pranav Maheshwari

Co Founder - Stayvista
www.careongo.com is India's first chain of Co-branded Pharmacy stores for delivery of Medicines, Generics, Babycare, Womencare, Petcare, Ayurvedic and general health products. With the trust of your neighbourhood pre-approved pharmacy and our 24x7 operations, buying healthcare products is now quick and easy. They are currently operational in 8 cities in India and have raised their first round of funding. The company is based out of Delhi.
"Hari has helped us immensely to deep dive into our business model and fine tune it to suit the market needs. He is a person who not only thinks for the well being of a business but also the end customer who benefits from various efficiencies which a business targets to bring in. His advice helped us to build an asset light scalable model with strong technological base. He also helped us widen our network of startups as well as industry experts. His plethora of experience of being an entrepreneur himself reflects in all his wisdom. He is the most sought after mentor and is very approachable when you need him. Don't miss a chance to meet him!"
Aditya Kandoi
Co-founder,
www.bedriven.in is developing a smart phone based driving analytics app with an analytics engine on the cloud . The company has been started by fresh graduates from BITS Pilani and they are based out of Mumbai.
"I would say Hari Sir has helped in the following ways:
Honest feedback - He didn't mince his words the first time I took the idea to him and he pointed out the things we were doing correctly as well as what we were doing wrong.
Mathematical approach - in the first 30 minutes he broke down the business into the simplest components economically, worked out the unit economics and then showed us what kind of numbers we would need to break even.
Practical future path - after having worked out the numbers we proceeded to go over a couple of ways to expand the business practically to reach break even and eventually profitability
Clarity of thought - something that was missing from us which I felt we started developing as he mentored us and advised us"
Shivalik Sen
Co Founder - www.bedriven.in
eazify.com is an intelligent, economical, user friendly, secured and efficient platform allowing merchants to communicate with their members/ customers through mobile app, SMS, email as well as automated voice calls and also facilitates collection of payments online via net baking, credit and debit cards.
" Hari is a superb advisor/ mentor and any organization will benefit from his wealth of experience. He is easily accessible, is very practical, goes out of his way to help you out and above all is an excellent human being. Hari has been an excellent sounding board for us and we truly treasure our relationship with him."
Nitin Jain
Founder , www.eazify.com
Tanvir Alam is the founder of www.fincart.com , an automated and intelligent platform for managing money.
" I was introduced to Hari Balasubramanian by a friend and ever since I have been in constant touch with him. He is a fantastic & immensely talented human whose acquaintance is sheer delight.
I don't miss an opportunity to meet him because every time I meet I carry some very important input that helps me in fine tuning my company. He is not a professor but a thorough businessman who has himself built a company from scratch, dirtying his hand and carving it to an IPO Level; certainly not a mean feat to achieve. He knowledge and insights are well adept to the changing times, are practical and easily executable. I would very specifically mention the 3 most important things that defines him and also how he helped me in my pursuit.
Knowledgeable:
You talk to him on any business and you will find him complimenting you discussing how the business can be built and taken to the next level. He is straight-forward and candid in his views & opinions – will call "A Spade" a spade upfront and appreciate good ideas, support with his insight on how it can be scaled, irrespective of his personal interest; truly a giver.
Marketing Insight:
In one of my discussion we were discussing young online buyers, he came up with some very interesting insight from my business perspective and shared how I can target them; what should be my communication strategy. I was completely taken a back as I had missed that perspective completely. His suggestions made complete sense; we have started making few minor changes to address that TG piece.
Aspirational Coach:
Perhaps a good coach sows that aspirational seed – Sachin Tendulkar is a better batsman than John Wright & Gary Kirsten, but it is under their supervision he achieved his 50th & 100 th Century. In fact it is John Wright who sowed the seed of 100 th century when he completed his 50th Century. In my last meeting, after we shared how we progressed gradually. He yet again stumped me and took me by surprise; he looked at me and said, you should scale fast and target to raise Series A by the end of this financial year 2016-17. Encouraging words & guidance from seasoned entrepreneurs such as Hari, boosts your confidence level and motivates you to achieve more. He is the fuel who will make you go that extra mile. I am now determined to meet my new milestone.
Thanks Hari for being my Mentor and Guiding Force.
This is to inform you that I know Mr Hari Balasubramanian since March 2010 - when we had started Advatech . That time he was the TiE Kolkata President.
Under his mentorship we grew from Kolkata to UK market. His regular critical inputs into our business made us TOP 100 Healthcare IT Start up in London as per Mayor of London website.

His regular inputs helped us to built our team and under his mentorship we had launched our latest offering to UK markets – Meditaxis, Taxi for patients. He regularly not only supported us, his presence also made a big difference in our team when I was away from Kolkata.

In one way I can say my dream to become a true Entrepreneur would have never been possible without the support and mentorship from Mr Hari.

Samit Kumar Biswas
Founder & CEO
Advatech Healthcare Europe Limited
I have met Mr. Hari in Kolkata around 6 years back and from the very first time, i was impressed with his depth of knowledge in business and his passion to help the new generation of entrepreneurs. After spending more than a decade in Kolkata and spending good amount of time meeting different kinds of business people in Kolkata and also across other metros in India, i could surely tell that someone like him is rare and a critical point of contact for any entrepreneur at any stage of business/startup.
On a personal side, i found him extremely humble, straightforward, selfless and cool.

I will be indebted for his help and support as a true mentor and guide from the very first time after we raised capital and during the successful exit from my company and wish he helps more and more such entrepreneurs in future for brighter and better entrepreneurial future of India.
Vikram Kumar

Founder (exited), Dataresolve